Extrasensory experiences (e.g. clairvoyant or telepathic cognitive experiences), involve extrasensory information that is naturally difficult to detect or grasp by the conscious mind and are often difficult to describe.
Purchase the textbook for more detailed information »

However, these experiences can become more noticeable when:
The individual is in distress (i.e. compensatory ESP), or
The individual has built and continues to build extrasensory experiential skills (i.e. natural ESP).

To make the former experiences occur more often, the individual would have to become distressed more often, and to increase the intensity of these experiences, the individual would have to increase the intensity of their distress; whereby also increasing the intensity of associated psychopathological symptoms.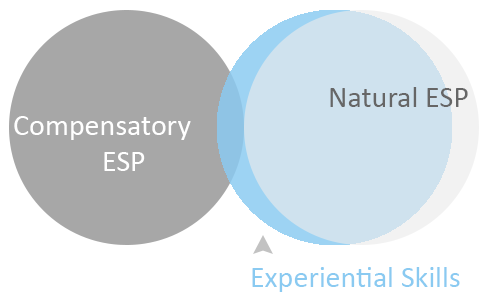 Such an unwise direction will lead the individual to suffer from severe distress and so much mental disorder and confusion that the individual will only be left with detrimental psychopathological symptoms and incomprehensible extrasensory experiences.
While individuals may begin building extrasensory experiential skills while in distress, and may retain some of those skills post Conflict or Withdrawal, this is not a practical or safe long-term direction for building experiential skills.

On the other hand, extrasensory "ability" (e.g. clairvoyant and telepathic cognitives) refers to an individual's frequent capability to explore, discover, and interpret subtle information and their ability to build upon that vague information to form useful information and detailed interpretations of that information.
In order to make these experiences occur more often, the individual will need to become more mindful of subtle subconscious extrasensory information by regularly engaging in conducive activities to retrieve and interpret such information (e.g. mindful mediation, mindful journaling w/ concept and emotion mapping), more often.
Such a wiser direction will lead to the safe enhancement of an individual's natural extrasensory experiences; whereby resulting in extrasensory "ability" (i.e. frequently useful and comprehensible extrasensory experiences). However, the need-serving nature of extrasensory processes will still require the individual to have a need to retrieve the information.
However, such needs can consist of basic daily sustainability needs (e.g. daily necessities or support such as general well-being), rather than purely survival needs where the nonfulfillment of needs will result in in moderate or severe distress (i.e. long-term necessities and support such as utilities, rent, food, clothing, education, etc.).

Citation: Kelly, T.M. (2015). Clinical Parapsychology: Extrasensory Exceptional Experiences (Textbook). University of Alternative Studies. Purchase.
Copyright © 2015 Theresa M. Kelly, MsD. This article is licensed under a Creative Commons Attribution-NonCommercial-NoDerivatives 4.0 International License.
---